Every month Tilted 10 and Tilt Studios has amazing specials that give you more for your money. Packages and deals, sweepstakes, and events.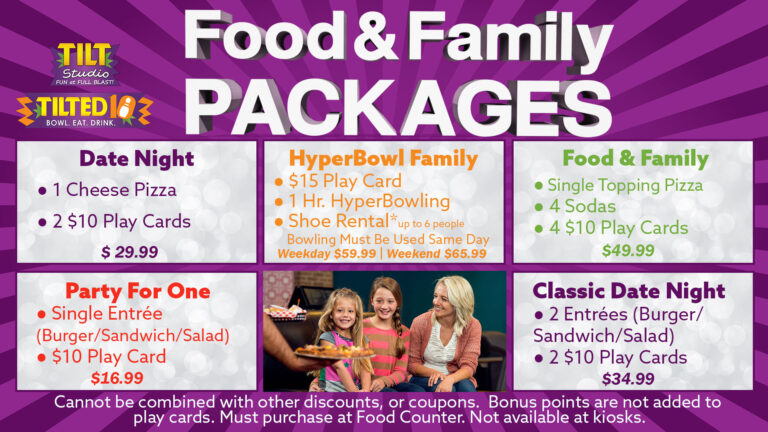 Our Food & Family Specials are perfect for families, couples, and when you're going solo!
Date Night: 1 Cheese Pizza and 2 $10 Play Cards for $29.99
HyperBowl Family: $15 Play Card, 1 Hour of HyperBowling, Shoe Rental for up to 6 people for $59.99 Weekday and $65.99 Weekend.
Food & Family: Single Topping Pizza, 4 Sodas, 4 $10 Play Cards for $49.99.
Party For One: Single Entrée (Burger, Sandwich or Salad) $10 Play Card for $16.99
Classic Date Night: 2 Entrées (Burger, Sandwich or Salad) and 2 $10 Play Cards for $34.99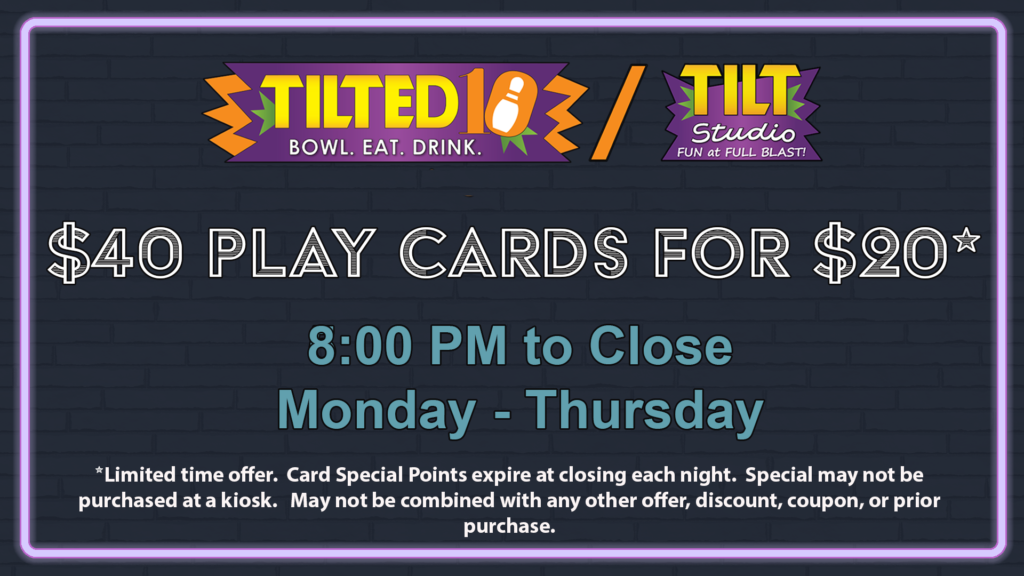 WEEKDAY FUNDOWN CONTINUES!
This is a limited time offer.
Don't miss out on this special offer to double your fun.
Get a $40 Play Card for just $20 from 8:00 pm to close every Monday through Thursday.
*Card special points expire at the close of business each night. Special may not be purchased at a Kiosk.  Manned attractions may not be open during this time period.  May not be combined with any other offer, discount, coupon, or prior purchase.
Tilted 10 and Tilt Studio facility complex is a two-level, 120,000+ square foot unique entertainment and dining experience. We are located inside Cherryvale Mall, Rockford, IL. Start off by enjoying craft cocktails, a chef-inspired menu in our full-service dining and bar area. Also, enjoy food and drinks on one of our 12 premium hyper bowling lanes. secondly, compete with friends and family in the two-level blacklight laser tag arena. Follow up by trying both of our 18 hole blacklight golf courses. Last but not least, crash into others with our bumper cars. Try to master one of the over 100 video, pinball, redemption, or prize games. 
Tilted Ten and Tilt Studio is designed to be fun for all ages. As a result, Tilted 10 and Tilt Studio are ideal for birthday parties. Furthermore, impress everyone by hosting your corporate events in our party or corporate-inspired event rooms and VIP spaces. Choose one of our tailored birthday, event, or team building packages or custom build your own private event.
Check out the MALL: shopcherryvalemall.com