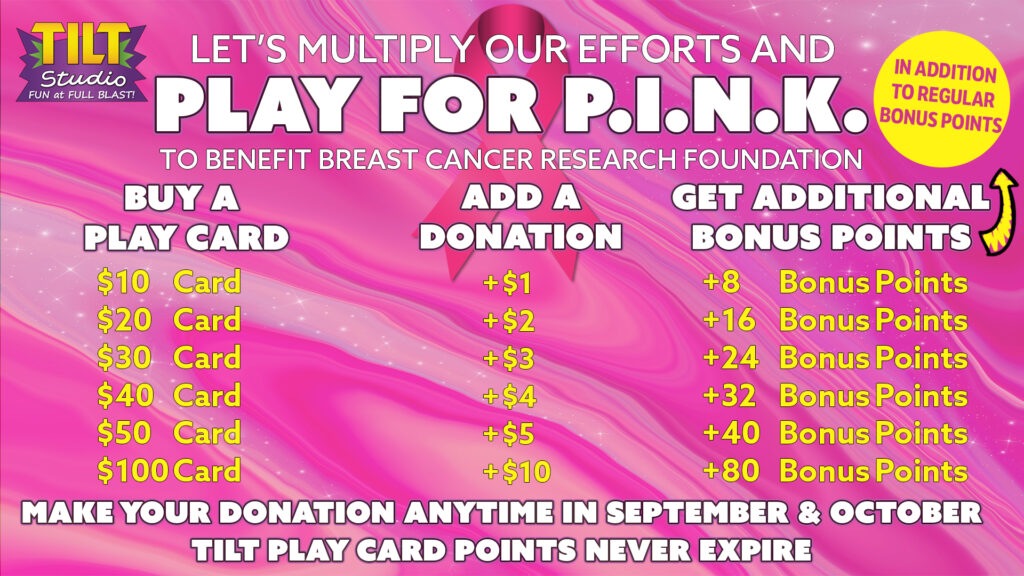 PLAY FOR P.I.N.K.
This September and October donate to Play For P.I.N.K. and receive extra bonus points on top of regular bonus points!
Buy a $10 Play Card donate $1 and receive 8 Bonus Points!
Buy a $20 Play Card donate $2 and receive 16 Bonus Points!
Buy a $30 Play Card donate $3 and receive 24 Bonus Points!
Buy a $40 Play Card donate $4 and receive 32 Bonus Points!
Buy a $50 Play Card donate $5 and receive 40 Bonus Points!
Buy a $100 Play Card donate $10 and receive 80 Bonus Points!
Make your donation anytime in September and October. Tilt Studio play card points never expire.
Our Food & Family Specials are perfect for families, couples, and when you're going solo!
Date Night: 2 Big Cheese Pizzas and 2 $10 Play Cards for $29.99
HyperBowl Family: Appetizer Platter, 1 Hour of HyperBowling, Shoe Rental for up to 6 people for $59.99 Weekday and $65.99 Weekend.
Food & Family: 16" Single Topping Pizza, 4 Sodas, 4 $10 Play Cards for $49.99.
Party For One: Single Entrée and $10 Play Card for $16.99
Classic Date Night: 2 Entrees (Burger or Sandwich) w/Fries and 2 $10 Play Cards for $34.99
WEEKDAY FUNDOWN CONTINUES!

This is a limited time offer.

Don't miss out on this special offer to double your fun.

Get a $40 Play Card for just $20 from 7:00 pm to close every Monday through Thursday.

*Card special points expire at the close of business each night. Special may not be purchased at a Kiosk.  Manned attractions may not be open during this time period.  May not be combined with any other offer, discount, coupon, or prior purchase.

Get half off hour bowling prices, Monday – Saturday 11 a.m. – 2 p.m.

*Limited time offer. Shoe rental not included.
| | | |
| --- | --- | --- |
| | |   |